by Emily Wick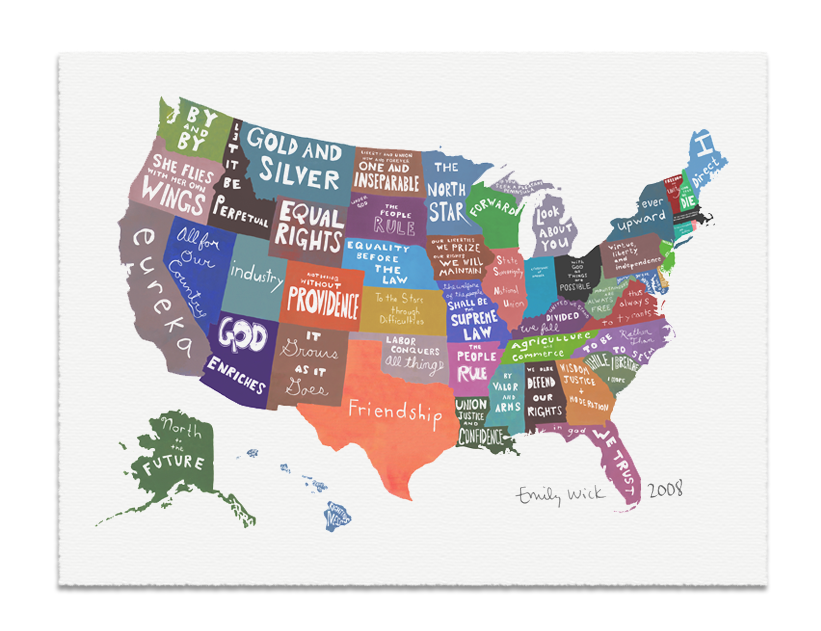 Hello and thank you for coming to see my map of the fifty united states and their official mottos. It is made from hand-carved linocuts, each approximately 9×12 inches, that I carved, printed, and scanned to make an original map projection.
The map has been featured on National Geographic Traveler's blog, in the coffee table book Mapping America, and in a music video for kids.
If you would like a map of your own, there are several options:
Order a full U.S. map off of Smokey's Tangle's Square shop. I offer a 30×40-inch archival digital print on rag paper for $300 as well as a 16×20-inch cardstock poster for $30.
Buy a poster in person at Concept 47 in Oakland (map) and/or San Francisco (map), or at my studio Smokey's Tangle (by appointment).
Order an individual state print. 11×14 inches, digital archival on rag paper, $50

. Each state can be viewed individually on the purchase page. Free custom colors for multiple prints. Many people purchase one from each state they've lived in.
About me: visit my website and blog emilywick.com for my latest work and an "about the artist" page.
!!Thank you for visiting fiftystatesmottos.com!!